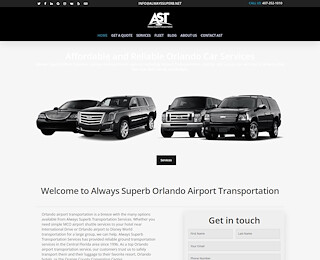 At Always Superb Transport, we aim to offer you a safe, convenient, and fast means of reaching your destination. We provide top class, reliable car service in Orlando with our fleet of luxurious shuttles, SUV, and premium sedans. Whether you are arriving at the airport, visiting for the first time, or want to attend an occasion in the city, our excellent car service is perfect for you.
Over the years, we have provided a comfortable and convenient means for tourist, travelers, and residents to move around the city. We work with a team of qualified professional drivers that have an in-depth knowledge of the Orlando FL area. With this, they can get you to your destination safely and on time, while taking the shortest routes to avoid delay.
Reasons to Hire Our Exclusive Car Service in Orlando
There are a lot of benefits you stand to derive from hiring our car service at Always Superb Transport. Whether you are going on a date or arriving at the Orlando International Airport, we can make the experience fantastic and more enjoyable. Some reasons to hire our Orlando car or limousine service include:
No Road Rage
There are different drivers with different kinds of behaviors on the road. Some are ill-mannered and reckless. With our exclusive car service, you won't have to experience any of such. Our drivers will be responsible for handling any lousy driver they come across on the road. You only have to sit back and enjoy your ride.
No Need to Worry About Directions
Especially when you are on family holiday or vacation with your loved ones, it is often advisable to hire car service in Orlando. This makes it easier to find your way around the city. Our qualified professional drivers have a comprehensive knowledge of the city. With this, they can quickly take you to anywhere you wish to go, without any need to rely on GPS.
More Time to Enjoy
Holiday and tours are a time to enjoy. Unfortunately, the stress of driving may end up taking the fun out of your journey. Our exclusive car service at Always Superb Transport will take away the driving stress. Thus, giving you more time to enjoy your ride. Even if you happened to be stuck in traffic, you could do other things like replying to emails, chatting, reading, making calls, and lots more.
Door to Door Service
Also, as you exit your door or arrive at the airport, your chauffeur will already be waiting to quickly pick you up and safely transport you to your destination. Our door to door service is perfect for you and your loved ones.
Hire Our Car Service in Orlando Today!
Nothing beats relaxing at the backseat of a car while another person drives you around. At Always Superb Transport, our Orlando car, and limo service are highly affordable, reliable, comfortable, and punctual. Our ability to continually deliver excellent, prompt, and dependable services makes us the preferred option for a lot of individual and families in Orlando, Florida. Contact us today to know more about our car services. An amazing experience awaits.
car service Orlando
always superb transport
4073521010
6868 lucca st
orlando
fl
32819
View Larger Map