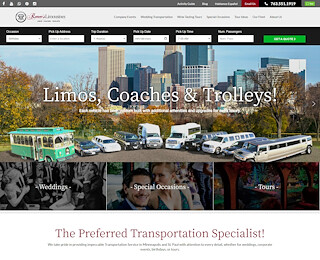 Luxury Limo Service MN
Renee's Limousines is your dependable provider of exquisite, top-class luxury limousine services in Minneapolis and St. Paul, Minnesota. Our luxury limo service in MN offers an exclusive, extra-comfortable and super convenient means of transportation to weddings, corporate events, birthdays, or tours.
Our fleet of limousines, stretch SUVs, coaches & buses are perfect to help arrive at your destination in grand style. Each vehicle has been custom built with exquisite facilities, additional amenities, as well as upgrades for extra luxury. You can always count on Renee's Limousines to help you grace your events and occasions in grand style.
Over the years, we have been recognized to provide a luxurious and convenient means for residents, travelers, and tourist to attend various occasions in Minneapolis and St. Paul, MN. Whether you are attending a wedding, social event, corporate event, birthday party, or wine tour, we are perfect to take you there.
What Occasions Can You Hire Our Exclusive Luxury Limo Service in MN?
Limousines represent wealth, elegance, and luxury. You can ride our luxury vehicles at Renee's Limousines in style and panache while enjoying the top-class comfort the vehicles provide. Our fleet of limousines and stretch SUVs are clean, reliable, and in optimal condition. These luxury vehicles also feature additional amenities and entertainment systems to offer you the enjoyable limo experience you always desired. The various events and occasions you can hire our luxury limo service in MN for include:
Weddings
The day you walk down the aisle with your partner is a memorable day in your lives. Our exquisite limo service at Renee's Limousines offers you a dignified way to enter and leave your wedding ceremony. Our qualified professional chauffeur handles the wheels while you and your partner more time to enjoy the ride or focus on other things.
Brewery and Winery Tours
With lots of breweries and wineries in the Minneapolis and St Paul area, a tour offers you the opportunity to taste some of the best brews and wines. You can participate in these brewery and winery tours with our luxury limo service. Each winery feature a taproom where you can taste different wine flavors in the Twin Cities.
Corporate & Social Events
Whether you are hosting a corporate event, social event, or going to the airport, our luxury limo service in MN is perfect for you. Our reliable team will accommodate your needs and ensure that you arrive at your destination safely and on time.
Weekend Vacation or Family Holiday
Are you planning a weekend vacation or family holiday in the Minneapolis and St Paul area? You can't afford to be stopping a taxi by the roadside now and then. At Renee's Limousines, we provide top class limo service for you and your loved ones. This remains the most convenient and stress-free way to tour the amazing tourist attractions in these twin cities.
Hire Our Luxury Limo Service in MN Today!
At Renee's Limousines, we aim to make you feel relaxed, comfortable, and convenient all through your journey. Our luxury and affordable limo services offer an excellent way to achieve the smooth and enjoyable ride you always desired. Contact us today for a limo quote. We guarantee you outstanding services that give complete customer satisfaction.
Luxury limo service mn
Renee's Limousines
763-551-1919
12813 Industrial Park Blvd
Minneapolis
MN
55441
View Larger Map