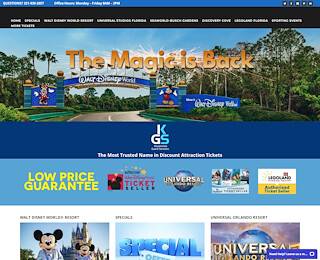 Get Top Orlando Theme Park Passes
Theme parks are the main attraction for people vacationing in Orlando. Each franchise offers a myriad of activities, food, and games that allow the whole family to experience unforgettable moments. Before buying tickets to Orlando's theme parks, it is essential that you choose which ones you want to go to, so you can plan your vacation time in Florida.
However, many people do not know which are the best theme parks in the city, especially if they have never visited Orlando. That is why you should know which are the best ones to choose for 2022, how much are theme parks in Orlando, and where to find the best Orlando theme park passes.
What are the Top-3 Theme Parks to Visit in Orlando in 2022?
Walt Disney World® Resort
This is the crown jewel of Orlando theme parks. Many generations have been delighted by the magic of the productions started by Walt Disney. At the Disney® resort, every member of the family is sure to find unlimited fun.
The Walt Disney World® resort is made up of 4 main areas: Magic Kingdom® Park, EPCOT®, Disney's Hollywood Studios®, and Disney's Animal Kingdom®. You can contact the KGS team if you want to know how much is a 1-day pass to Disney World®, how much is a 2 park pass to Disney®, or how much is a Disney World® annual pass in 2022.
Seaworld Orlando®
At Seaworld® you can experience the aquatic world like nowhere else. You'll enjoy a variety of freshwater and saltwater aquatic species in one of the world's most colorful and complete aquariums, plus a variety of exciting activities including rides, attractions, and animal experiences. You will also delight in the most incredible presentations, such as One Ocean®, the famous killer whale show. You can also participate in the beautiful experience of saving an injured animal at SeaWorld Rescue™.
If roller coasters are your thing, at Seaworld® you can have non-stop fun. You can live the electrifying experience aboard the mighty Manta® or MAKO®, Orlando's tallest, fastest and longest roller coaster. New this February 22, Seaworld® debuts Ice Breaker, our first multi-directional launched coaster.
Universal Studios Florida™
At this theme park, you can experience all the magic of the great Universal Studios™ movie productions. Delight in the magic of the best of cinema in this incredible three-park complex that includes the most amazing water park in the region. Plus, you can experience the Wizarding World of Harry Potter™, and if you have a Park-to-Park pass you can even ride the Hogwarts™ Express.
The Universal Studios Florida™ experience provides activities for everyone. Coming soon, you'll enjoy our spectacular Mardi Gras 2022, from February 5 through April 24. And if you love dinosaurs, you can't miss Jurassic World Velocicoastes, the apex predator of roller coasters.
How KGS Opens These Parks For You?
Kissimmee Guest Services (KGS) is the top Authorized Theme Park Seller online. When you buy your tickets from us, you are guaranteed that they are authentic. Besides, we make sure to get the best prices for you, thanks to our years in the industry and the volume of tickets we sell. We have the best staff that will guide you to select the ideal parks for you to spend an unforgettable vacation. If you were looking for the best Orlando theme park passes, you are in the right place. Contact us for the best-discounted tickets.
Kissimmee Guest Services
321.939.2057
950 Celebration Boulevard H
Celebration
FL
34747
View Larger Map