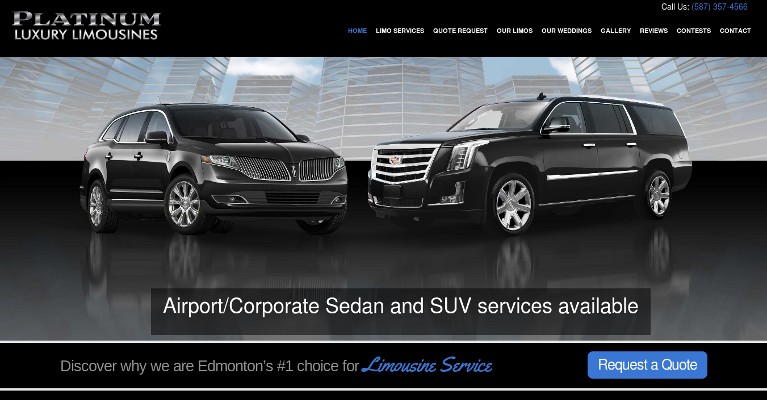 A limo is a great way to enjoy a special occasion or get to and from an event. You can find quality limo service in Edmonton at affordable prices. If you have an event that you are planning one of the first things you need to do is reserve a limo. If you wait too long to book a reservation you could find that you are without transportation for your special day. Choose from a variety of options such as a stretch limo or an SUV style Lincoln Navigator or bus.
Limo Service in Edmonton
There are a few things to consider before you choose limo service in Edmonton. You want to choose a limo company that has the experience to handle your needs. Whether you are planning your wedding or want a limo for a special event or concert, there are options for everyone. Check to make sure that the company has a fleet that includes the type of limo that you prefer.
You can often view the various vehicle fleet options online to see which vehicles are available. It is important to make your reservation early to ensure that you can have your vehicle of choice. For example, if you are planning a group event such as a concert you need to verify the size vehicle that is available before making a reservation.
How to Find Excellent Limo Service in Edmonton
Not all limo companies are the same. You want to choose a reliable service that will arrive on time to get you to your destination according to schedule. It is best to create an itinerary that you can share with the limo company. This gives them a very good idea of the plan for the day or evening and specifies their role in the event.
Pick a company with vehicles and drivers that meet your needs. It is important that the company has experienced and responsible drivers to get you safely to and from your event. It is best to discuss your specific requirements and expectations with the company's representative prior to booking the service. They will include all of the details of your needs in the information that is passed along to the driver.
Affordable and Reliable Limo Service in Edmonton
Of course you want to have a great experience but at the same time, you don't want the cost to break your budget. You can often get the best deals when you choose a package. Packages usually include a specific length of time and may include other features and amenities. You can inquire as to the additional charges that could be incurred such as if your trip runs longer than expected.
It is always best to get a contract in writing ahead of time. The contract spells out exactly what you are getting as well as the price that you will pay. You might need to provide a down-payment to hold your reservation. Learn more about our high quality limo services or book your reservation online.
Platinum Luxury Limousines
5873574566
9433-58 Ave NW, Edmonton, AB T6E 0B8