Bed And Breakfast Michigan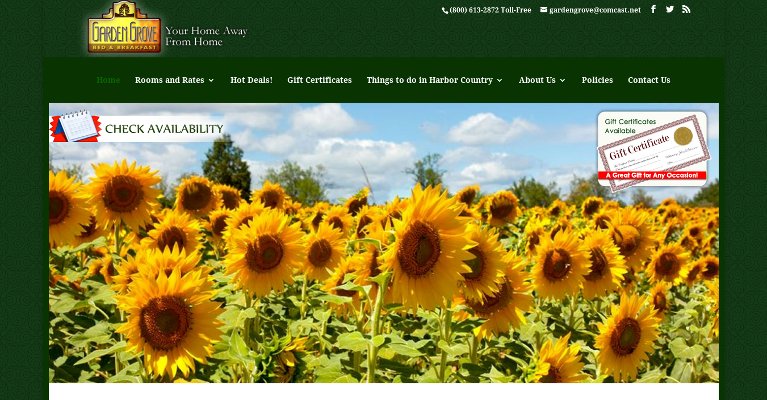 "The right Place for any Season" – Enjoy all the attractions Harbor Country has to offer and get away to Garden Grove Bed and Breakfast in Union Pier, Michigan. Located in Southwestern Michigan, Garden Grove is just a short drive from Chicago, and three short hours from Toledo, Flint, and Milwaukee.
The four-guestroom bed and breakfast and three-room detached Carriage House is a romantic Michigan bed and breakfast getaway and popular choice for relaxing, celebrating honeymoons, anniversaries and experiencing the many local restaurants and area attractions.
The Carriage House at Garden Grove offers spacious rooms with deluxe accommodations to make your stay a most relaxing and memorable experience. In addition to delicious in-room breakfasts, the rooms and suite have central air-conditioning, private baths with double Jacuzzi and separate walk-in glass enclosed showers, hardwood floors, cathedral ceilings, fireplace, mini-fridge, microwave, coffee maker, wet bar, in-room TV's with VCR/DVD, telephone and free High Speed Internet.
Although these modern amenities exceed what you might expect, what really makes Garden Grove one of Michigan's best bed and breakfasts is the tranquil feeling and marked change of pace from the hustle and bustle of the big city and at home feeling in the charming country cottage lifestyle near the shores of Lake Michigan. We are one of a few Bed and Breakfasts in Michigan that offer a wet bar sink, 2 person Jacuzzi, microwave and mini-fridge in our Carriage House suites. The beautifully decorated, elegant rooms and old-style home fits right in to the picturesque country side and solitude of Harbor Country.
A full breakfast for two is served each morning at tables for two in our dining rooms for B&B guests. Breakfast is delivered to the room in the Carriage House. A typical breakfast includes fresh fruit, blueberry pancakes, sausage and eggs or fresh baked pastries, a veggie quiche, roasted potatoes with the fresh fruit. We regret being unable to accommodate special dietary needs except for some minor substitutions.
Garden Grove Bed and Breakfast
800-613-2872
9549 Union Pier Road, Union Pier, Michigan (MI) 49129